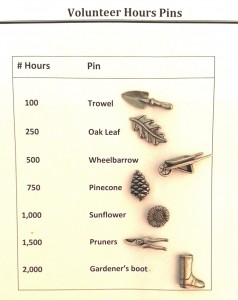 Our Master Gardener volunteers contribute innumerable hours to their communities by participating on projects, speaking to the public, writing articles, teaching classes, and much more!
We honor our Active Certified Master Gardeners with garden-themed pins as they reach volunteer hour milestones, cumulative over their time as Active Certified Master Gardeners.
One hundred (100) volunteer hours is marked by a trowel pin, 250 hours by an oak leaf pin, 500 hours by a wheelbarrow pin, 750 hours by a pinecone pin, 1000 hours by a sunflower pin, 1500 hours by a pruner pin, and 2000 hours by a gardener's boot!
---